From their latest album "Translation", the Black Eyed Peas along with Nicky Jam & Tyga bring you VIDA LOCA. One of the hottest new songs with an obvious sample from MC Hammer's U can't touch this.
The group performed this single at the 2020 MTV VMAs and all fans (including me) were focused on Will.I.Am, Taboo and Apl.De.Ap's light-up zippers pants, as they danced around the stage. They performed Vida Loca with J. Rey Soul, Tyga and a sky-sized projection of Nicky Jam and continued the performance with I got a feeling to finish off the song paying tribute to Chadwick Boseman & ended with "Black Lives Matter".
A really great song all around and I thought it would be great to share it with you all. Don't forget to checkout the lyrics and translation in the rest of this post as usual along with all the best music every week from DJ Eddie.
Lyrics & Translation
Original Lyrics:

Four, tres, two, uno

It's my life, b**ch (Ah)
It's my life, b**ch
It's my life, b**ch
Four, tres, two, uno

Don't you know I'm loco? (Ah)
No quiero no problemo
Them girls love they coco (Ah)
Don't need to call the popo

Judging me's no, no (Ah)
If you scroll through my photo
I do not live it slow mo (Ah)
I live my life in turbo

'Cause it's vida loca, it's vida loca
I do what I wanna (Ah)
I do what I wanna (Ah)
You can't tell me nothing, baby, no me diga' nada
B**ch, you're not my mama (Ah), nah, nah

It's mi vida loca (It's mi vida loca)
So cállate tu boca (Yeah, cállate tu boca)
I already told ya, I told ya
I'm livin' la vida loca (La vida loca)

It's my life, b**ch (Ah)
It's my life, b**ch
It's my life, b**ch
Four, tres, two, uno

Vida loca y no e' la de Ricky (Ah)
Con una canción yo me busco el ticket
Dinero, 'tamo pa' eso (Ah)
Will, tírame el beat, que yo rompo el verso
Esto lo hicimo' pa' romper la discoteca (Ah)
Aquí no hay miedo, lo dejamo' en la gabeta (Ah)

Es mi vida loca, es mi vida loca
Nadie me la toca (Ah), nadie me la toca
Es mi vida loca algarete y no me importa
B**ch, you're not my mama (Ah)

It's mi vida loca (It's mi vida loca)
So cállate tu boca (Yeah, cállate tu boca)
I already told ya, I told ya
I'm livin' la vida loca (La vida loca)

It's my life, b**ch (Ah)
It's my life, b**ch
It's my life, b**ch
Four, tres, two, uno

Ah, it's a big face (Yeah), give me big space (Space)
Bring that ass back, make it rotate
Shoot my shot, all I need is one take
How party poppin' on a Monday?

Can't tell me nothing like Kanye (Ah-ah-ah)
And I never backtrack, get it my way (Yeah)
Do what I say, be fiancée
I got girls like Skin, like Shyday

Dark skin, skin like Drake
Mhm, mhm, okay (Okay)
Flat stomach (Yeah), no waste (No waste)
You wanna kiss 'em 'n make up all day

Don't you act up them boys in the back
And they won't think twice, just (Hah) and react (Yeah)
My life movie never hit, it's a wrap
Tell a hater relax

It's mi vida loca (It's mi vida loca)
So cállate tu boca (Yeah, cállate tu boca)
I already told ya, I told ya
I'm livin' la vida loca (La vida loca)

Óyeme, óyeme, esta es mi vida (Ah)
Y quítate de mi camino, metida
No tengas celos, no seas jodida (Ah)
Tú sabes que es mi estilo, maravilla (Ayy)

No puede' matar la movida (Ayy)
Porque no estás en mi liga (Ayy)
Pegando, pegando muy duro (Ah)
Estoy trabajando todo' lo' día'

Work hard (Work), play hard (Get it)
Hot chicks on my radar (Wuh!)
Stay lit on a liquid (Ah)
To be black, I'm like Darth Vader (Wuh!)

Squat it up with these hot baes
And they stay soft and they grade up (Uh)
I shine like a quasar (Uh)
Ain't another n**ga, crazier

It's mi vida loca (It's mi vida loca)
I do what I wanna (Ah) (I do what I wanna)
You can't tell me nothing, baby, no me diga' nada
B**ch, you're not my mama (Ah), nah, nah

English

Four, three, two, one

It's my life, b**ch (Ah)
It's my life, b**ch
It's my life, b**ch
Four, three, two, one

Don't you know I'm crazy? (Ah)
I don't want problems
Them girls love they coco (Ah)
Don't need to call the popo

Judging me's no, no (Ah)
If you scroll through my photo
I do not live it slow mo (Ah)
I live my life in turbo

'Cause it's crazy life, it's crazy life
I do what I wanna (Ah)
I do what I wanna (Ah)
You can't tell me nothing, baby, don't tell me nothing
B**ch, you're not my momma (Ah), nah, nah

It's my crazy life (It's my crazy life)
So shut up (Yeah, shut up)
I already told ya, I told ya
I'm livin' the crazy life (The crazy life)

It's my life, b**ch (Ah)
It's my life, b**ch
It's my life, b**ch
Four, three, two, one

Crazy life and I'm not Ricky (Ah)
I got my bucks with one song
Money, we are looking for that
Will, drop the beat cuz I'm gonna hit it
We did this to hit the club (Ah)
Here there's no fear, we left it in the drawer (Ah)

It's my crazy life, it's my crazy life
Nobody touches it (Ah), nobody touches it
It's my crazy life, dumb, and I don't care
B**ch, you're not my momma (Ah)

It's my crazy life (It's my crazy life)
So shut up (Yeah, shut up)
I already told ya, I told ya
I'm livin' the crazy life (The crazy life)

It's my life, b**ch (Ah)
It's my life, b**ch
It's my life, b**ch
Four, three, two, one

Ah, it's a big face (Yeah), give me big space (Space)
Bring that ass back, make it rotate
Shoot my shot, all I need is one take
How party poppin' on a Monday?

Can't tell me nothing like Kanye (Ah-ah-ah)
And I never backtrack, get it my way (Yeah)
Do what I say, be fiancée
I got girls like Skin, like Shyday

Dark skin, skin like Drake
Mhm, mhm, okay (Okay)
Flat stomach (Yeah), no waste (No waste)
You wanna kiss 'em 'n make up all day

Don't you act up them boys in the back
And they won't think twice, just (Hah) and react (Yeah)
My life movie never hit, it's a wrap
Tell a hater relax

It's my crazy life (It's my crazy life)
So shut up (Yeah, shut up)
I already told ya, I told ya
I'm livin' the crazy life (The crazy life)

Listen to me, listen to me, it's my crazy life (Ah)
And get outta my way, obtrusive
Don't be jealous, don't be f**ked up (Ah)
You know it's my style, wonder (Ayy)

You can't kill the vibe (Ayy)
'Cause you're not in my league (Ayy)
Hitting , hitting so hard (Ah)
I'm working everyday

Work hard (Work), play hard (Get it)
Hot chicks on my radar (Wuh!)
Stay lit on a liquid (Ah)
To be black, I'm like Darth Vader (Wuh!)

Squat it up with these hot baes
And they stay soft and they grade up (Uh)
I shine like a quasar (Uh)
Ain't another n**ga, crazier

It's my crazy life (it's my crazy life)
I do what I wanna (Ah) (I do what I wanna)
You can't tell me nothing, baby, don't tell me nothing
B**ch, you're not my momma (Ah), nah, nah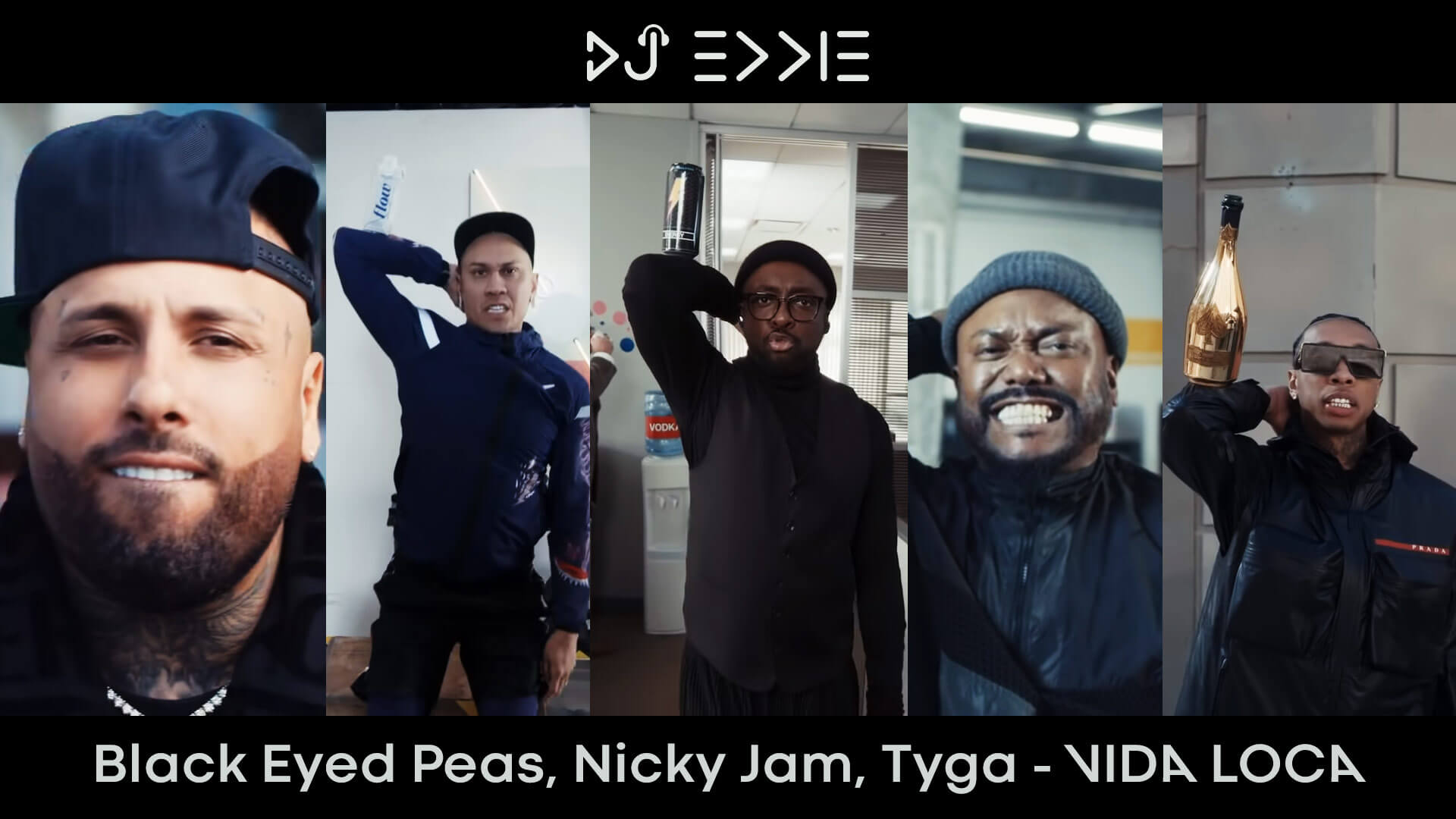 ---
ترقبوا كل ما هو جديد دوماً مع دي جي ايدي
DJ Eddie brings you the best music always