A huge collaboration between two huge Spanish artists Nicky Jam & J. Balvin for their song called X (EQUIS). The tune is oh so sweet and has some beautiful playing that makes you just want to hear it over and over again. I'm sure this will be a very hot song for 2018 in all parties and clubs. I can't wait to hopefully make my own remix of it even though it sounds so perfect already. This hit song will top many charts I'm sure.
You have to check out the video as well. It is just as good as the song itself and compliments it really well. The song is produced by Afro Bros & Jeon/ The lyrics and English translation is below as well so check it out RIGHT NOW and have a look at other hit songs as usual from DJ EDDIE.
I also wanted to mention that today is the start of the FIFA WORLD CUP in Russia with the first game played by the host Russia & Saudi Arabia and if you haven't checked out last week's song you should now. It is the official FIFA World Cup song.
DJ Eddie brings you the best music always
ترقبوا كل ما هو جديد دوماً مع دي جي ايدي
The English Version

Most times I decide to create custom graphics for the songs I share and I though you might love this one. Set it as your desktop wallpaper on your computer!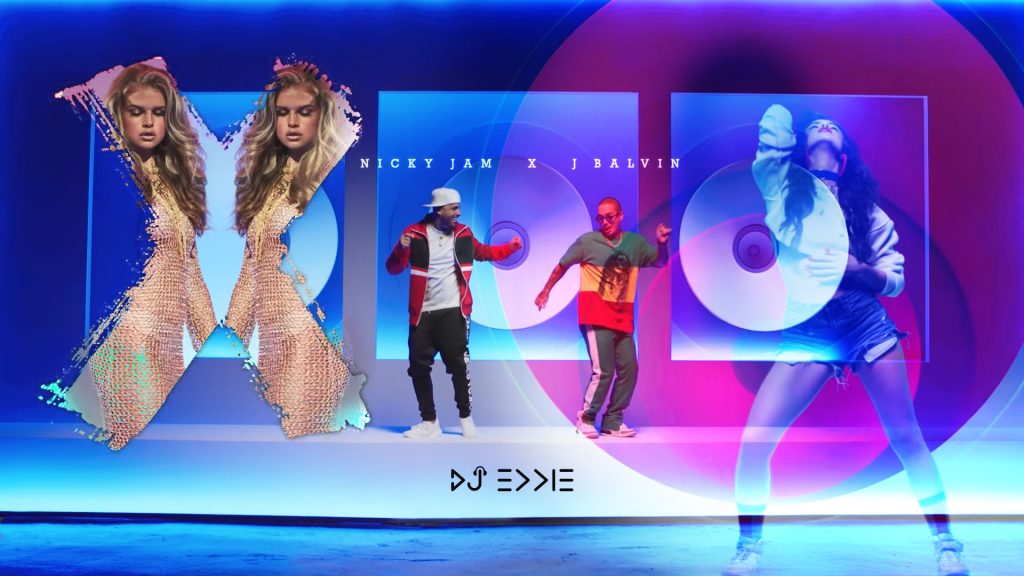 Lyrics & Translation
Spanish LyricsEquis

[Intro: Nicky Jam]
Aquel día te vi y tu energía sentí
Desde eso no te quiero lejos de mí (-ejos de mí)
Sé que no sabes de mí (de mí)
Y no te puedo mentir
Lo que dicen en la calle sobre mí (sobre mí)

[Coro: Nicky Jam, J Balvin]
Y no te voy a negar
Estamos claro', hey ya (hey ya, hey ya)
No te lo voy a negar (jaja, no te lo puedo negar)
Estamos claro', hey ya (jaja, que estamos claro', que estamos claro')

[Verso 1: J Balvin, Nicky Jam]
Sólo déja que yo te agarre, baby
Besos en el cuello pa' calmar la sed
Mi mano en tu cadera pa' empezar como e'
No le vamo' a bajar más nunca mamá (no)
Ba-ba-ba-ba-baila
Plakata, plakata
Como ella lo mueve, sin para', sin para'
Las ganas de comerte ahora son más fuerte'
Quiero tenerte

[Coro: Nicky Jam, J Balvin]
Y no te voy a negar (vente pa' 'cá)
Estamos claros, hey ya
No te lo voy a negar
Estamos claros, hey ya

[Verso 2: Nicky Jam]
Lo que he visto de ti mami no me es normal (normal)
Pero no te preocupes que eso ya es normal (normal)
Sé que a tus amigas no les debo gustar, eh
Pero, hey, cuéntale, parte por parte
Como tenemos sexo y te quito el estrés
Dale otra vez

[Coro: Nicky Jam]
Y no te voy a negar (voy a negar, voy a negar)
Estamos claros, hey ya (hey ya, hey ya)
No te lo voy a negar (a negar, negar)
Estamos claros, hey ya (hey ya, hey ya)

[Puente: Nicky Jam, J Balvin]
¡No!
Ba-ba-ba-ba-baila
Plakata, plakata
Como ella lo mueve, sin para', sin para'
Las ganas de comerte ahora son más fuerte'
Quiero tenerte
Y no te voy a negar (ah, ah)

[Outro: Nicky Jam, J Balvin, Nicky Jam & J Balvin]
N.I.C.K (plakata, plakata)
J Balvin, men (como ella lo mueve, sin para', sin para')
Nicky-Nicky-Nicky Jam (jajaja)
La Industria Inc
J Balvin
No voy a hablar mucho
Deja que el beat siga r-r-r-rompiendo
¡Yeah! (yeah)
¡Wuh! (wuh, wuh)

English Translation

[Intro: Nicky Jam]
That day I saw you and your energy I felt
Since then I do not want you away from me (-eyes from me)
I know you do not know about me (about me)
And I can not lie to you
What they say on the street about me (about me)

[Chorus: Nicky Jam, J Balvin]
And I will not deny it
We are clear ', hey ya (hey ya, hey ya)
I will not deny it (haha, I can not deny it)
We are clear ', hey ya (haha, that we are clear', that we are clear ')

[Verse 1: J Balvin, Nicky Jam]
Just let me grab you, baby
Kisses on the neck to quench the thirst
My hand on your hip to start like e'
We're not going down ever again mom (no)
Ba-ba-ba-ba-baila
Plakata, plakata
How she moves it, without stopping ', without stopping'
The desire to eat you is stronger now
I wanna have you

[Chorus: Nicky Jam, J Balvin]
And I will not deny it (come here)
We are clear, hey
I will not deny it
We are clear, hey

[Verse 2: Nicky Jam]
What I've seen from you mommy is not normal (normal)
But do not worry that is already normal (normal)
I know that your friends should not like it, huh
But, hey, tell them, part by part
How we have sex and I take your stress away
Hit it again

[Chorus: Nicky Jam]
And I will not deny (I will deny, I will deny)
We are clear, hey ya (hey ya, hey ya)
I will not deny it (to deny, deny)
We are clear, hey ya (hey ya, hey ya)

[Bridge: Nicky Jam, J Balvin]
Do not!
Ba-ba-ba-ba-baila
Plakata, plakata
How she shakes it, without stopping ', without stopping'
The desire to eat you is stronger now
I wanna have you
And I will not deny it (ah, ah)

[Outro: Nicky Jam, J Balvin, Nicky Jam & J Balvin]
N.I.C.K (plakata, plakata)
J Balvin, men (as she moves it, nonstop , nonstop)
Nicky-Nicky-Nicky Jam (hahaha)
The Industry Inc
J Balvin
I will not talk too much
Let the beat continue r-r-r-breaking
Yeah! (yeah)
Wuh! (wuh, wuh)
---
ترقبوا كل ما هو جديد دوماً مع دي جي ايدي
DJ Eddie brings you the best music always