These kind of songs have my favorite beats. Boasty by Sean Paul, Stefflon Don, Wiley ft Idris Elba is a great new dancehall hit with many great elements. Very nice rhythm (riddim) indeed which makes it really easy to want to dance with this dancehall/twerk type of song.
I love Idris Elba's performance here (he's very admired in Hollywood and the film industry for his amazing roles besides his talent as a DJ which he often prefers) and it seems like all 4 artists complete each other in this song. Sean Paul is just as impressive of course.
I will leave you with the video and full Boasty lyrics below in this post.
LYRICS:
Wiley:
Boasy boasy
Godfather man a OG
Man a half humble man a boasty
Fling a rag a riddim like its 03
Boasty house on the coast G
My money's so long it doesn't know me
Its looking at my kids like Im boasty
Steff:
A-Yo Idris tell them other gyal na take the piss
When steffy step out in a tan I tell you this
Body comfortable any mi physically fit
And mi brown and sweet just like the chocolate
(Yo Wiley) Dem want sound like me
And the Don pussy pretty with the up crop a dee
Shut down any city with my bad gyal posse
Every man want piece a me
The bottle dem a pop
And dem a bun weed
Man wa whine behind me
Me haffi move cah him dusty
Im looking for a breddah who got hella pounds
079 baby imma hand my digits out
(Chorus)
Boasy boasy
god father man a OG
Man a half humble man a boasty
Fling a rag a riddim like its 03
Boasty house on the coast G
My money's so long it doesn't know me
Its looking at my kids like Im boasty
Sean Paul:
Ba de bang bang bang ayyy
So when mi spit it pon the riddim
Every gyal a get with it
Spit it pon the riddim every gyal a get
Spit it chop it pon the riddim every gyal a get wid it
Whine up your body and spin in
Girl when you bubble it a trouble
Wa you give me the suttin
Now turn it around and bring it
Youre pressing it back and a nah nuttin
You fi push that button
My girl don't bother gwarn timid
Wa see you bruk out bruk out and fling it
Wa see your body shaking up to the limit
Wa see you whyle out to wiley to S to the P
Stefflon Don and mi don Idris
Is it
Idris:
I came to rap you know
Do my ting
Sabbie put me on the gram you know
Remix ting
Hold tight Wiley with the Pachino flow
God father part 2 call me De Niro
I came to win battle me that's a sin
Disrespect man get a slap pon the chin
Man a King me no talk bout larry
Man a big DJ ask Meghan and Harry
Boast yeah, man a boasty
I make your girl melt like a toasty
I been this way from day
And I write for myself no ghosty
Me's a boy got money ina bank and
Ready fi roll and blaze up this tank an
Got the girls from Jam 1 to Hong Kong
The girls dem champion
(Chorus)
Boasty boasty
god father man a OG
Man a half humble man a boasty
Fling a rag a riddim like its 03
Boasty house on the coast G
My money's so long it doesn't know me
Its looking at my kids like Im boasty
I fly around the world coz im boasty
(Chorus)
Boasty boasty
god father man a OG
Man a half humble man a boasty
Fling a rag a riddim like its 03
Boasty house on the coast G
My money's so long it doesn't know me
Its looking at my kids like Im boasty
I fly around the world coz im boasty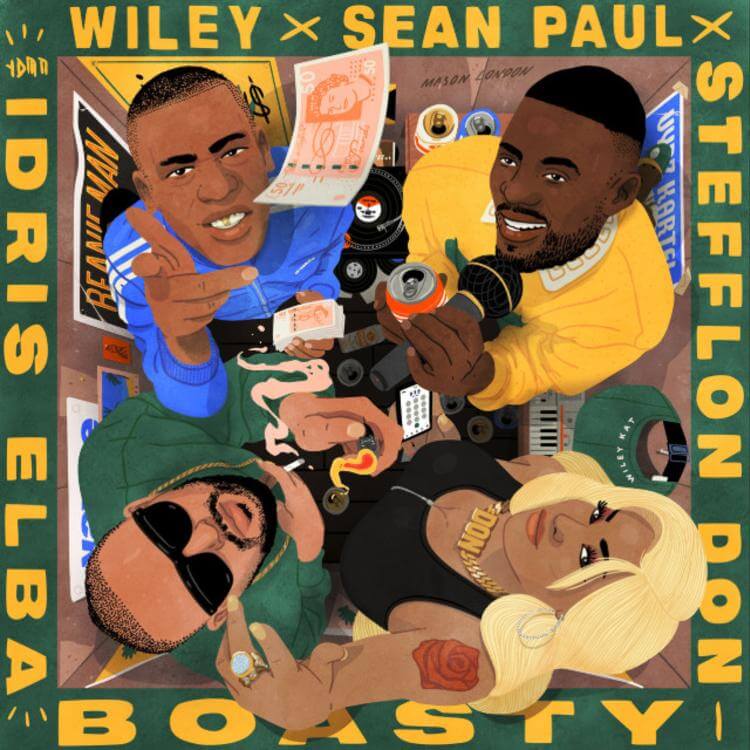 ---
ترقبوا كل ما هو جديد دوماً مع دي جي ايدي
DJ Eddie brings you the best music always